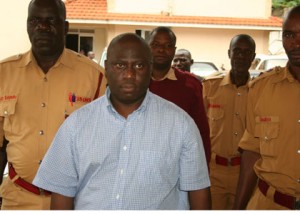 The Prosecution has today made its final submissions in the case against Geoffrey Kazinda, calling for a conviction.
The interdicted principal accountant in the Office of the Prime Minister faces charges of forgery, abuse of office and making documents without authorization.
The Prosecution led by Paul Lakidi produced 14 witnesses, who attested to the allegation that he forged the signature of the Permanent Secretary Pius Bigirimana.
The state closed its case today, asking Anti -Corruption Court Judge David Wangutusi to convict Kazinda as charged.
The case has now been adjourned to April 29th for defense lawyers to respond to the prosecution's final submissions.