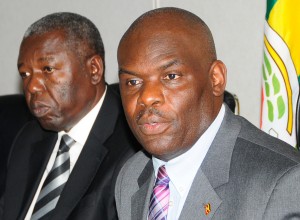 State prosecutors have given the government 30 days to address their welfare concerns or they lay down their tools.
In the July 11th meeting held at Buganda Road Magistrate's Court in Kampala, state lawyers in the criminal justice demanded to meet the Director of Public Prosecutions (DPP) within 14 days to discuss their plight.
Under their Uganda Association of Prosecutors (UAP), the lawyers who spoke with rage citing low remuneration coupled with salary disparities and unfair taxation, overwork and lack of promotion.
According to UAP Vice President David Baxter Bakibinga prosecutors handle high profile criminal cases which involve murder and huge sums of money but they are not protected.
The prosecutors want government to convert their recent 10 per cent salary increment into allowances and make their earnings tax exempt as is the case for other judicial officers in the Justice, Law and Order Sector departments.
If the prosecutors make real their threat, it will escalate congestion of police cells and prisons and increase the case backlog in courts.
However DPP Mike Chibita has declined to comment on the matter saying he is yet to receive a copy of the prosecutors' resolutions. He has also complained that he is a member of UAP but was not invited for the meeting.