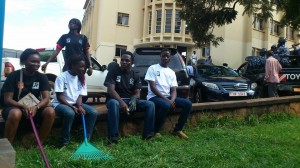 Journalists have re-echoed the need for a better working relationship with the police.
Speaking at a cleanup exercise at the central police station, national coordinator human rights network for journalists, Robert Ssempala said that the two parties need each other and should therefore work together.
Sempala also called for tougher penalties to police officers who harass journalists while on duty.
He however says they will continue to use other avenues of showing discontent like courts of law to ensure that media rights are respected.
In response, CPS head, James Namuwooza welcomed the gesture by the journalists promising to follow suit.
Namuwooza disowned actions by some police officers saying police respects media freedom.
Meanwhile, prayers for fallen journalists have also been held.
This is all happening ahead of the world press freedom day tomorrow.
The day is running under the theme; Media Freedom for a Better Future: Shaping the post-2015 Development Agenda.