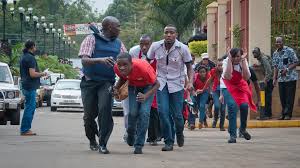 East African leaders have directed their security agencies to develop strategies to contain terrorism in the area and the Great Lakes Region in general.
This was contained in a communiqué issued yesterday at the end of the 12th Extra-Ordinary Summit of the Heads of State of the East African Community member countries held in Arusha Tanzania where they condemned the Mombasa Kenya.
The Heads of State also directed the EAC Secretariat to ensure the accelerated implementation of the resolutions agreed on during the previous meetings, especially in areas that concern the political federation.
The Summit was attended by Presidents Yoweri Museveni of Uganda, Uhuru Kenyatta of Kenya and the host President Jakaya Kikwete of Tanzania.
President Paul Kagame of Rwanda was represented by his Prime Minister, the Rt. Hon. Pierre Habumuremyi while the President of Burundi was represented by his First Vice President, Prosper Bazombuza.