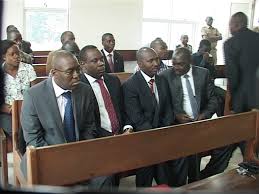 The Supreme Court has ordered that the four expelled Members of Parliament go back to parliament.
The MPs had filed an application seeking an interim injunction stopping the implementation of an earlier ruling by the Constitutional Court that saw them thrown out.
Five justices of the Supreme Court led by Stella Arach Amoko said that they are convinced that the MPs filed an appeal.
The judges say that the implementation of the ruling by the Constitutional Court should be put on hold until the final verdict on the main appeal filed by the MPs in made.
The ruling was read by Justice George Wislon Sekkokko.
The MPs are Muhammad Nsereko for Kampala Central, Theodore Sekikubo for Rwemiyaga, Wilfred Niwagaba for Ndorwa East and Buyaga County's Barnabas Ntinkasimire.
They were expelled from the NRM party for alleged misconduct.
The group is represented by a team of lawyers led by Peter Walubiri.