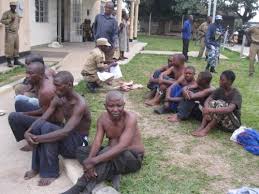 The 112 suspects arrested in connection with Bundibujyo attacks face treason charges.
According to police spokesperson Fred Enanga, those arrested include to Rwenzururu Kingdom officials like the Prime Minister, the minister for tourism and another in charge of veterans and the kingdoms administration.
Addressing the media this afternoon, Enanga has revealed these suspects are to be tried before the General Court Martial.
Meanwhile, the Rwenzururu King Charles Wesley Mumbere has condemned the arrest of his prime minister.
Noah Nzaghale was this afternoon picked up by police in Kasese for questioning in connection with the weekend clashes. This comes a day after the kingdom denied planning the said tribal clashes saying they too were victims.
An official from the kingdom and former MP for Busongora South Christopher Kibanzanga confirms the Premier's arrest.
In a seperate development, 12 more suspects have been arrested in Ntoroko district. The group was found with machetes and other dangerous weapons, and in Budndibuggyo, the situation is calm and business is slowly returning to normal following the weekend clashes that left dozens dead.