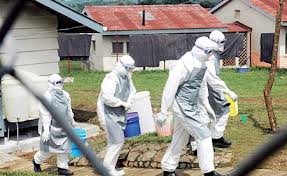 Government has strengthened surveillance at the airport and all border points in a bid to prevent the spread of the deadly Ebola virus. This followed the death of a man at Kitgum hospital in what is suspected to be a case of Ebola.
However, addressing a news conference this afternoon, health minister Dr Ruhakana Rugunda has dispelled all fears of a possible Ebola outbreak. He said the reports were baseless and only meant to cause unnecessary tension.
Earlier this afternoon, debate on a possible Ebola outbreak in Uganda was taken to parliament. The matter was raised by MPs Patrick Amuriat and Alice Alaso who questioned what measures government had taken to safe guard Ugandans since the outbreak was reported in West Africa.
Responding to their queries, the second deputy Prime Minister Moses Ali said the health minister is to be asked to make a formal statement on Ebola.
Earlier, we spoke to the head of surveillance at the Ministry of health Dr. Issa Makumbi who confirmed that body samples from the deceased are being tested at the Uganda Virus Research Institute.
We also spoke to Dr. Geoffrey Akena, a General practitioner who attended to the patient at Kitgum hospital.
He says they are waiting for test results of samples taken from the man. 48 year-old Justine Abola, a peasant farmer, died on Monday evening shortly after he was admitted at Kitgum hospital.
He reportedly had a high grade fever and abdominal pain but later begun passing blood from several body openings.
Dr. Akena says they are monitoring the family and whoever came into contact with the deceased.
They have also discouraged the family from holding any gathering until the test results are out.
This comes after government sent a team of experts to among other things give psychosocial support to people affected by the Ebola virus in West Africa.
Meanwhile Sierra Leone's president has declared a public health emergency to curb the deadly Ebola outbreak.
Ernest Bai Koroma said the epicentres of the outbreak in the east would be quarantined and asked the security forces to enforce the measures.
The UN says 729 people in West Africa have died of Ebola since February – 233 of them in Sierra Leone.
While in Liberia, according to Kenya's Standard news paper, a desperate search is on for dozens of passengers who flew on the same jets as a 40-year-old American.
Patrick Sawyer, whose sister also died from Ebola, was allowed on two ASKY Airlines flights in Liberia while infected.
He had a stopover in Ghana then changed planes in Togo and flew to the international travel hub of Lagos in Nigeria. He died five days after arriving in the city.
Doctors fear Ebola victim Patrick Sawyer may have sparked a worldwide spread of the killer disease after being allowed on two flights while infected.
British doctors and border officials have been warned to be on the lookout for people in the UK showing signs of the disease.
Ebola is spread through human contact with an infected person's bodily fluids.
Initial flu-like symptoms can lead to external hemorrhaging from areas like eyes and gums, and internal bleeding which can lead to organ failure.