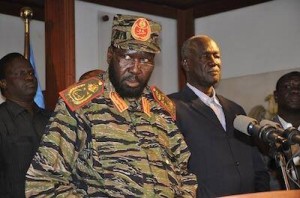 The warring parties in the South Sudan conflict must be drawn back to the negotiation table.
The call comes a day after the government delegation said they would not participate in the talks after the rebels demanded that political prisoners be released as a precondition.
Now political analyst Dr. Christopher Twesigye says there is no other alternative to end the war than to pursue dialogue.
Meanwhile Uganda continues to receive an influx of refugees fleeing fighting in South Sudan. Close to 18,000 South Sudan refugees have so far been received in Uganda.These are camped in various places including Adjumani, Arua and Kiryandongo.
The Commissioner for refugees in the ministry of disaster preparedness David Kazungu says these have been settled in Rhino camp, and Kiryandongo and the ministry is collaborating with various agencies to ensure basic needs are meet. He adds that a team has been sent to West Nile region to assess the situation.
The fighting in that broke out in South Sudan in December has left atleast 1,500 people dead and over 180,000 displaced. Government forces have been fighting forces loyal to President Salvar Kiir's former deputy Riek Machar.