The Deputy speaker of parliament, Thomas Tayebwa has called for collective efforts from all Ugandans to bring to an end road accidents in the country.
Figures show that thousands die in road crashes with the 2021 police Annual Report showing that 17,443 died in road accidents in the mentioned year.
Flagging off-road activist Joseph Beyanga commonly known as Joe Walker who is trekking with his friends to Mbale in a road safety campaign, Tayebwa said road safety requires joint efforts and is not a preserve for a few advocates.
He has also warned VIPs who have been blamed to be part of the road crash mess and the biggest problem on Ugandan roads. He urged them to drive with caution, noting that they are not any special from other road users.
Tayebwa has meanwhile given Joe Walker and his friends Shs5 million to help them in the 250KM road safety walk that is being held under the theme "Too Young to Die."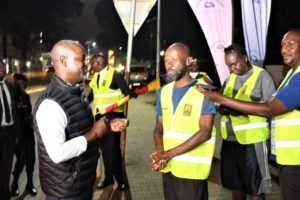 "Accidents, issues of the environment, these are issues you can't shoot down with a gun. You cannot say we are going to deploy tanks. You have to deploy all the might of the community into people's hearts to appreciate. This gives us a challenge as parliament," Tayebwa said.
On his part, Beyanga says together with other walkers, they are more than prepared for the uphill task.
"Joe Walker and friends are this year going to Mbale and why are we going to Mbale this time? If you look at Uganda, we have two of the most deadly highways and they are recognized as the most deadly highways. If you're looking at Kampala to Mbale, that's the Eastern route and secondly, it is followed by the Kampala Masaka to Mbarara highway. We want to go to Mbale because we want to highlight on that," Beyanga said.