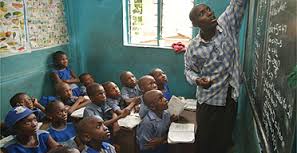 Classes resume today after teachers suspended their strike.
Teachers in government schools are today expected to start teaching after a10-day strike.
The teachers yesterday reached an agreement with government after a select committee was constituted to scrutinize teachers' proposals including a 20% salary increment demands among others.
The committee is expected to commence work on October 2nd and submit a report by the end of November.
According to the General Secretary Uganda National Teachers Union James Tweheyo all teachers across the country are expected to report for duty this morning.
KFM has visited a number of schools in Kampala and found that pupils had turned and teachers were teaching.
At Buganda Road and Mengo Primary Schools, the teachers are in class though with just a handful of pupils.
At Old Kampala, Bat Valley and Nsambya Primary Schools the situation is not any different. At teacher at Nsambya P/S said they hope that more parents will bring their children tomorrow.