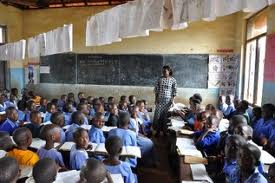 A meeting is underway between teachers and the ministry of education to resolve the disagreements over their SACCO funds.
The Teachers marched all the way from the UNATU offices at Bombo road to the ministry of education headquarters to demand for the release of the SACCO funds.
The teachers are led by James Tweheyo and are meeting with the education ministry State minister in charge of higher education John Chrysostom Muyingo.
The teachers and the ministry are at loggerheads over a 25 billion grant from the president which the ministry resolved to remit to the teachers through the micro finance support Centre.
earlier we spoke to The General Secretary of the Uganda National Teachers Union James Tweheyo who said they want to recover their money from the ministry, failure of which they will lay down their tools at the start of the new school term on February 2nd.
Tweheyo says they notified both the police and the ministry about their peaceful march.