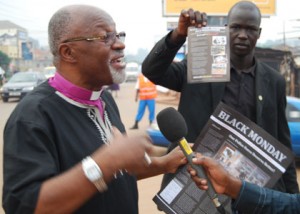 It is another showdown between the police and the opposition.
The police in Soroti have blocked all rallies that were meant to be held today by the free & fair election campaign activists.
The group attended church services in Soroti early today, but the police have blocked them while returning to Desert Island Resort causing commotion in the town.
Tear gas has been fired to disperse the activists who claim they were only picking their belongings from the hotel before heading to Kampala.
One of activists Retired Bishop Zac Niringiye speaks to KFM that the police in Soroti say the group has been blocked to avoid chaotic scenes.
Similar scenes were seen in Mbale town yesterday where the activists had taken the message of the need for a peaceful electoral process that will foster free and fair elections come 2016.