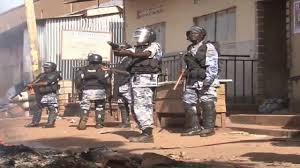 One person has been shot in an ongoing skirmish between the police and residents of Kasokoso.
The victim, whose identity is still unknown, has been rushed to hospital.
A child has also been left unconscious after inhaling teargas.
The police swung in action this morning to disperse residents protesting the alleged arrest of their area Local council chairman.
The chairman's arrest is said to be related to an assault on the former Kira town council division mayor Mamerito Mugerwa last year.