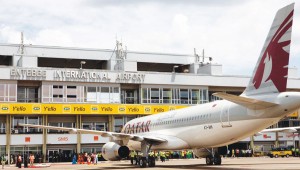 The police have stepped up security in Kampala following a "specific threat" of a planned attack on Entebbe International Airport.
Militant Islamist group al-Shabab bombed two restaurants in Kampala during the 2010 football World Cup killing over 70 people at Kyadondo Rugby grounds and Ethiopian Village in Kabalagala.
The US Embassy issued an advisory to its citizens in Uganda telling them to reconsider their travels through Entebbe airport today.
In a statement issued this afternoon, it said information from the police force indicated the attack could take place between 9 p.m. and 11 p.m.
Last week, the Inspector General of Police, Gen. Kale Kayihura, said Entebbe Airport was at the risk of being attacked by terrorists and they (terrorists) had already carried out trial runs on how they would carry out the attack.
Today, counter terrorism police and military officers manned the city centre and all major entrances to the capital.
They erected barriers and closed some roads before carrying out searches. The police spokesperson Fred Enanga explained that the operation was carried out to avert possible attacks after they received intelligence information to that effect.
Elsewhere, security measures are being tightened for flights to the US from around the world.
Meanwhile as football funs eagerly await the 2014 World Cup final slated July 13th, the police have already secured Namboole stadium, where it will be screened as it happens.
The Kiira Division Police Commander Peter Nkulega tells KFM that working with other security agencies they have already deployed strategically in all surrounding areas.