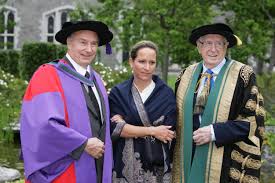 His Highness The Aga Khan has reiterated the importance of multiplier effect in passing on skills.
Speaking at the graduation ceremony at the Aga Khan University the Aga Khan at the Kampala Serena Hotel said this helps in building civil society.
He says that accomplishments are measured by quality and not quantity and a few teachers can pass on skills to others.
Over 40 students have graduated in different disciplines with degrees, diplomas and masters.
His Highness the Aga Khan who is on a 3-day working visit earlier met President Yoweri Museveni at State House Entebbe and discussed various development projects that the Aga Khan's Development Network is involved in especially in the education, health, infrastructure and aviation sectors.
The meeting was attended by the Minister of Finance and Economic Planning, Hon. Maria Kiwanuka, that of Education and Sports, Hon. Jessica Alupo, of Lands, Housing and Urban Development, Hon. Daudi Migereko, State Minister for International Affairs, Hon. Henry Okello Oryem, and of State for Energy, Hon Simon D'ujanga.
HH the Aga Khan was accompanied by Dr Shafik Sachedina who is Director of Diplomatic Affairs in the Aga Khan Development Network (AKDN); Ambassador Mahmood Ahmed who is the Resident Representative of the Aga Khan Development Network and Ms. Ertfa Alani, the Liaison officer of the AKDN.
Story by Ali Mivule