Story by Benjamin Jumbe:
Slums are some of the most populated areas within the city.
With the population within the city increasing by the day, access to proper sanitation facilities is becoming a bigger challenge.
According to current statistics from KCCA over 90% of the households use pit latrines of inadequate standards while approximately 1.8% is estimated to have no access to a toilet at all.
Another challenge besides access is the management of Pit latrine waste with over 60% of it not properly disposed.
The challenge however is inadequate access to proper sanitation facilities.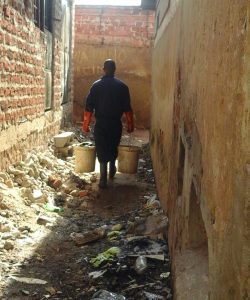 The Kawempe Division Town clerk Geoffrey Rwakabare says his area is among the most populated and because many of the residents stay in informal settlements, "even if they wished, they do not have adequate space to construct their own sanitation facilities."
With current statistics showing that approximately 1.8% of the population in the city is estimated to have no access to a toilet at all, Mr Rwakabare explains that those without choose to use what is sometimes referred to as the "flying toilets".
"There are incidences where some households within the division that do not have any sanitation facility at all, they ease themselves in polythene bags and throw them in the environment" Mr Rwakabare said.
Leaders in some of these slums have however continued mobilizing the residents to ensure they have sanitation facilities.
Hajji Khalid Kasirye is the vice chairperson Tawo Zone in Katwe, Makindye division.
"As leaders of the area we have tried to make an effort to ensure that each household has a pit latrine and we endeavor to have them emptied. We however do not have a public toilet but our neighboring zone has" Hajji Kasirye said.
The deputy director National Water and Sewerage Corporation Johnson Amayo says a project to improve water and sanitation in informal settlements is in the offing with plans in advanced stages.
"We have a project which is a component under Kampala Lake Victoria water and sanitation project which specifically focuses on service provision in informal settlements and will be putting in some public sanitation facilities; we are going to be installing prepaid water metering systems in Kampala so that people can get water at a very cheap price." Mr Amayo said.
Mr Amani says it is a follow up project on what had been done earlier in Kisenyi, Bwaise and Makerere Kivulu. He says learning from lessons learnt in these areas, the project is now being up scaled to take care of 42 cells in Kampala." Eng Amayo said.
To private players in the water Sanitation and Hygiene sector, there is still need to bridge the knowledge gap about sanitation services as Grace Alupo from Water Aid Uganda elaborates;
"We know for instance for sanitation our policy in Uganda is clear that the role of providing a sanitation facility lies with an individual or a household so if the communities have a gap and do not appreciate that they have a responsibility to play, in as much as government may have resources and interest and commitment to push that this happens, we need that knowledge to be cut across so that everyone plays their role and responsibility for us to be able to achieve the sector targets" Ms Alupo said.
While these efforts could be yielding results, another challenge is the management of the faecal sludge.
It is estimated that only 40% is safely collected, transported, disposed and treated.
This is due to the inadequate and unregulated Pit emptying services which sometimes are unaffordable by the urban poor in informal settlements.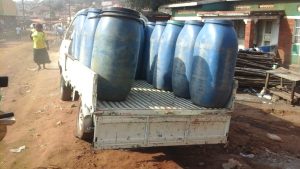 One of the residents in Tawo zone identified as Hajara shares what they have been doing.
"It's true that some of the residents here have very dirty and dilapidated latrines but ours has not been that bad. To empty it we simply get a person who breaks part of the backside and gets out the waste," Hajara revealed.
Well, to address some of these sanitation challenges, Kampala capital city Authority is partnering with pit emptying private operators to ensure that the pit waste is properly dumped at designated Treatment Plants in Lubigi or Bugolobi.
It is also helping link these operators to communities and other potential clients through a newly established KCCA call centre and promoting the gulper technology.
I spoke to John Businge operations manager of Forever Sanitation Ltd, one of the selected private operators.
"We are partnering with KCCA in transportation of sludge in the city, sensitization of the community and marketing this gulper technology. When KCCA get someone who needs emptying services, they just forward them to our company"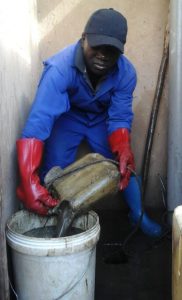 The Commissioner rural water supply and sanitation department Eng Joseph Eyatu says the ministry is committed to having 100% sanitation coverage with a number of projects in place to cater for the slum dwellers.
"As a ministry we are promoting open defecation free environment, we want all the waste to be confined into one place where we can treat it and dispose it." Eng Eyatu said.
"In the slums, we have a number of projects, we had LVEMP project which was targeting slum sanitation, we have projects being handled by KCCA together with national Water and in all the small towns where we work, we promote sanitation and are targeting to achieve 100%" he added.