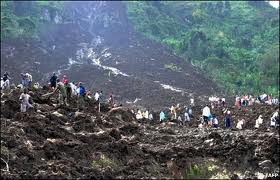 Three children have been buried alive by a mudslide in a village in Kasese district.
The incident occurred last evening in Kabukero village Mahango sub-county in Kasese district.
The chairman LC 3 Stephen Muthekengwa says the tragic incident occurred at the home of one Mbaju Bisusi at about 7:30pm.
The bodies of the children have been removed after residents dug deep into the rubble for hours.
The children were trapped in the house during the evening down pour when the mudslide occurred.
This is the third time children are killed by mudslides in Mahango
sub-county as result of heavy down pour.
In 2012 four people were killed while in 2011 five children perished under similar circumstances.