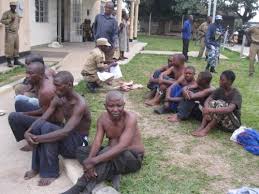 Three suspected Rwenzori attackers have today been charged with 10 counts of various offences before General Court Martial sitting in Bundibugyo district.
These are part of the 125 suspected to have taken part in the clashes that left over 90 people dead a week ago in the districts of Ntokoroko and Bundibugyo.
Speaking to KFM, Major Ronald Kakurungu, the UPDF 2nd Division Spokesperson identified these suspects as David Muhindo, Grace Bira and   Yolizid Kamara.
He explained that the remaining 122 are still in police custody at fort portal, awaiting the court process.