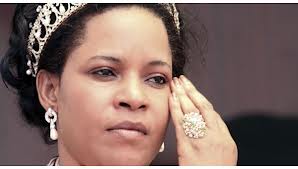 Tooro Queen Mother Best Kemigisha appeared at Buganda road court today to give evidence in a case in which a city lawyer Bob Kasango allegedly stole her money amounting to 4.5billion shillings.
Best Kemigisha appeared before Buganda road court magistrate Eleanor Khainza to testify against Kasango who did not appear before court.
Bob Kasango is accused of stealing money belonging to Tooro Queen Mother Best Kemigisha, paid to her in exchange of her land.
Kasango is charged with three counts of stealing, forgery and uttering false documents.
The trial magistrate has issued criminal summons against Kasango requiring him to appear before court on 27th March for hearing of the case and Best Kemisha is expected to return on the same date.
Government is said to have paid Kemigisa Shs 4.5 billion for land she sold but her lawyer, Bob Kasango is alleged to have walked away with entire sum.
Bob Kasango has denied the allegations against him and maintains his innocence.