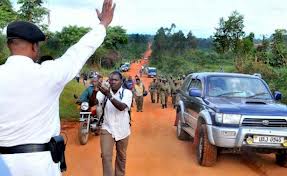 The newly introduced Traffic Alerts Cord has netted nine police officers for alleged extortion of money from motorists.
The initiative is part of the force's internal mechanism geared at changing the face of traffic police.
The Traffic Alerts Cord is also mandated to monitor behavior of officers while in the field.
Speaking to media today the director of traffic and road safety Dr.Steven Kasiima said the arrests were made in areas of Kawanda, Nsangi, Zanna, Buloba and Matugga.
He explained that these officers were caught in the act and they are yet to face the police Professional Standards Units.