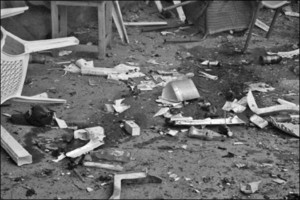 Twin explosions have rocked the Gikomba market area of the Kenyan capital Nairobi, killing at least five people and injuring scores.
It is not clear what caused the blasts but Kenya has been hit by a spate of attacks in recent years.
They have mostly been blamed on the al-Shabab militant Islamist group from neighbouring Somalia.
According to Kenyan media, one grenade was planted in a commuter taxi and another in a shop.
One suspect has so far been arrested in connection with the explosions.
Hundreds of British tourists are said to have been evacuated from the resort area of Mombasa amid warnings of an attack.