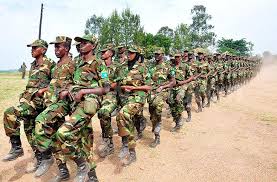 Uganda hopes to pull out of South Sudan in about two months.
This has been revealed by the Foreign Affairs minister Sam Kutesa while addressing the media this morning.
He said they have written to the African Union Peace and Security Council to kick-start the process of setting up the African Capacity Response Crises Force to move into South Sudan.
Kutesa says the force is a voluntary mechanism and 12 countries including Tanzania, Chad, Guinea, Mauritius, Sudan and South Africa have already offered support
He adds that Uganda's intervention has helped avert a looming genocide and is hopeful that the mechanism will be considered soon so that Uganda can with draw.
Kutesa also reveals that Uganda is funding UPDF operations in South Sudan.
Government has refuted claims by the South Sudan Defence Minister that the country has been funding the UPDF's operations since they were invited in December last year.
Kuteesa says the Uganda government has been spending its funds to pacify parts of South Sudan.
Kuteesa however says any support from the youngest African country would be welcome.