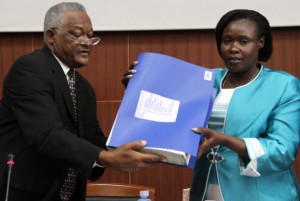 Results from the 2012 UACE exams have been released this morning, showing an improvement in performance.
99.3% candidates passed and qualify to be issued certificates, compared to 99.2% the previous year.
The girls excelled in arts subjects, while the boys excelled more in the science subjects.
Some of the best performed subjects include History, Economics, Divinity and Geography and Entrepreneurship.
Female students generally outperformed their male counterparts though boys excelled in subjects like Chemistry, Physics and Mathematics.
The results of 404 candidates have however been withheld over suspected involvement in malpractice.
The affected schools include Lugogo Hall under KCCA, Valley College Bushenyi, Sharing Youth Centre, Gomba Global College, Nagalama Islamic institute, Lord's Meade secondary Njeru and Agrolinks Academy, among others.
The UNEB Secretary Mathew Bukenya has noted that exam leakages reduced drastically though cheating was most notable in science sciences, in particular biology
The UNEB Board Chairman Fagil Mandy has expressed joy over the improved performance but urged the teachers to learn to listen to the students and to ensure that they are always in good health.
Fagil Mandy also appealed to parents not to abandon their responsibility of taking good care of their children.