By Damali Mukhaye:
The Government has moved to tighten its grip on online communication especially social media with new rules aimed at preventing distribution of illegal and offensive content.
In a statement issued late yesterday (Thursday), the Uganda Communications Commission warned of dire consequences if users fail to abide by the law.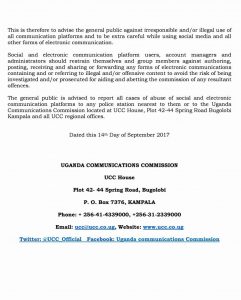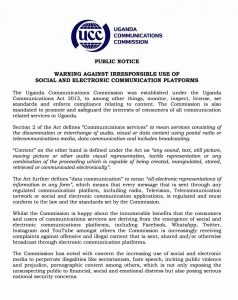 The Commission notes that  the new guild lines follows the increasing use of social and electronic media to perpetrate illegalities like sectarianism, hate speech, inciting public violence and prejudice.
The Communications regulator has also warned that Social and electronic communication platform users, account managers and administrators should restrain themselves and group members against authoring, posting, receiving and sharing or forwarding any forms of electronic communications deemed illegal or offensive.
It further warns that any breach of the said guidelines will result into investigations and or prosecution for aiding and abetting the commission of any resultant offences.