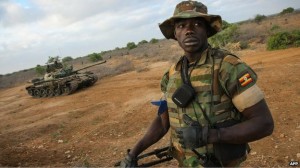 Uganda will not heed to any pressure to have its forces out of South Sudan.
Information and National Guidance minister Rose Namayanja says the forces are there to keep peace and as long as insecurity prevails, they are still needed.
The minister's comments follow calls from the Norwegian government to have Uganda out of South Sudan as the implementation of the cease fire agreement goes on.
It also comes a day after the Defence Minister Dr. Cryspus Kiyonga echoed similar sentiments.
Namayanja says the forces will also continue to protect Ugandans trapped in South Sudan.
Uganda has been accused of directly taking part in the fighting, an allegation government has not denied but says it was invited by South Sudan president Salva Kiir.