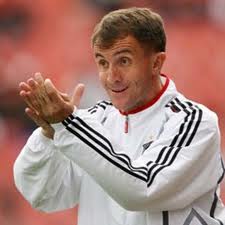 Cranes head coach Milutin Sredojević Micho is a happy man after his team beat the African giants in this  evening's international friendly.
The Nigerian Super Eagles lost to the Cranes 1-0
The lone goal was scored by Farouk Miya in the 81st minute.
Speaking right after the game at Akwa Ibom stadium in Uyo state, Micho gave all the credit to his players.
Meanwhile, the Nigerian Captain Vincent Enyeama could not hide his disappointment.