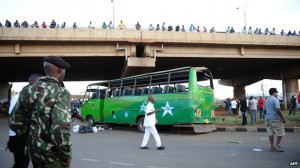 Uganda gets on high alert as panic grips Kenya following bomb blasts.
The Uganda police spokesperson Fred Enanga says Ugandan security organs are closely following events in Kenya and are scaling up the country's surveillance.
He however says the public should be vigilant.  
Four people were killed in Kenya on Saturday when a grenade was thrown in a bus in the coastal city of Mombasa.
15 others sustained serious injuries. A second blast occurred near a beach-front hotel, but no-one was hurt.