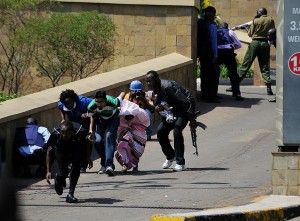 The government says a Ugandan national has been affected following Saturday's terror attacks on Kenya's Westgate shopping mall.
A statement issued by the minister for information and national guidance Namayanja Rose Nsereko has confirmed this but no details have been given regarding the person's identity.
Namayanja says the Ugandan High commission in Nairobi has been contacted and they have indicated that there is a Ugandan National affected.
It's also not clear how the person has been affected. The government says it will provide details later.
Meanwhile, The Ugandan Government has also added voice to the growing global condemnation of the attack on innocent civilians in Kenya.
The government has described the attack as a misguided act of desperation designed by evil elements to divide the people of Kenya and break the country's resolve and to support the Global anti-terrorism fight and the on-going UN stabilization Mission in Somalia.
Uganda says it stands firmly in solidarity with the Government, Kenya and the bereaved families and the People of Kenya at large during this difficult period.
The government has also called for justice to ensure that the assailants are punished accordingly.
LIVE STREAM: Nairobi terror attack