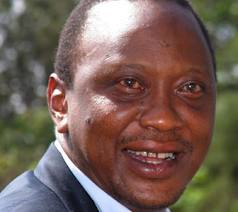 Uhuru Kenyatta of the Jubillee Alliance has formally been declared the Kenyan President elect.
After all the votes were counted he had polled 50.03% of the vote, 4,109 votes over the threshold required for outright victory.
The Electoral chairman Isaack Hassan made the formal announcement.
Speaking at the ceremony, Isaaxk Hassan has commended Kenyans for the huge turn-up that was over 80%.
He also took a moment to comment about the technical hitches in the system that saw the electronic system crash.
He says though this delayed the process, the manual counting of the votes was a legal process, which he says did not affect the integrity of the process.
He has appealed to all candidates who participated in the process to respect the rule of law and to put national interests ahead of individual ambitions.
The Cord team says it will be heading to the Supreme Court to challenges the results announced by the commission.
Meanwhile in Nairobi, small groups of Kenyatta supporters started celebrating as early as 4am, with hooting of car horns and singing.
Preparations for the swearing in ceremony are in high gear.
US President Barrack Obama is among world leaders invited to attend the swearing-in of Kenya's new president on March 26th.
Head of the Civil Service Francis Kimemia says the government is finalizing plans to invite several other leaders.
He further pointed out that key representatives from the European Union have also been invited to the occasion.
In case there is a petition but it is dismissed, the swearing in will take place on April 16.
Back here,
Government says it is ready to work with the new President of Kenya.
The Presidential Advisor in charge of Political Affairs, Moses Byaruhanga commends the Kenyan voters for maintain peace and exercising their rights to elect a new President.
Byaruhanga says focus should now be routed towards integration of the East African Community if the political federation is to be achieved soon.