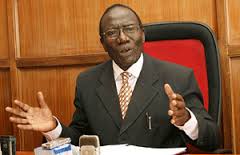 The Uganda National Examinations Board has released the examination time tables for the year 2013.
According to the UNEB spokesperson Hamis Kaheru, six levels of exams will be conducted beginning in October and November.
These include Primary Leaving Examinations, Uganda Certificate of Education (UCE), Uganda Junior Technical Certificate, Crafts I, II & III, Community Polytechnic Certificate of Education (CPCE)
Kaheru says briefing for PLE candidates will begin on November 1st with the first exam scheduled for November 4th.
A total of Candidates – 581,586 are expected to sit these exams
For UCE Briefing of candidates will be done on– October 11th for a total of 295,472 candidates.
While briefing senior six candidates will be done on  8th November for 116,027 candidates.