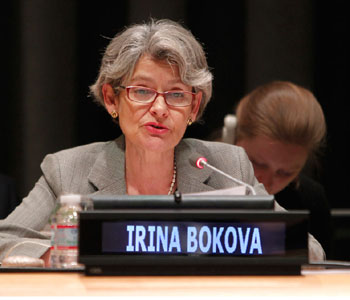 The recent killings of journalists in South Sudan and in Iraq have been denounced by the United Nations Cultural Agency, UNESCO.
The Director-General Irina Bokova called on governments on Thursday to improve the safety of media workers in the country.
The death of the five South Sudanese journalists has been described by the UNESCO chief as a "blow to freedom of information and freedom of expression".
The attack took place in Western Bahr el Ghazal on 25 January.
A total of 11 people died in the roadside ambush by unidentified gunmen.
Four of the reporters worked for the state-run FM station and the fifth was a cameraman with the public television channel, SSTV.
Meanwhile, an Iraqi broadcaster, Ali Al-Ansari, was killed on 23 January while covering a military operation conducted by Iraqi Security Forces against extremist groups.
Bokova called for a better protection of journalists working in dangerous environments.