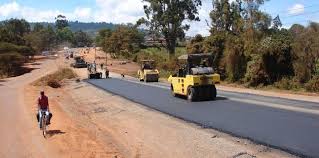 Top UNRA officials have been suspended over irregularities in the Mukono-Katosi road construction project.
The suspension follows a directive by the Inspector General of Government Irene Mulyagonja to the chairperson of the Uganda National Roads Authority board.
The officials include the acting Executive Director, Ssebuga Kimeze, Director Finance and Administration,  Joe Ssemugooma, legal counsel Marvin Baryaruha and David Luyimbazi  the director of planning.
In a statement, the IGG says the decision follows investigations into the alleged mismanagement of procurement and award of a contract for construction of Mukono-Kyetume-Katosi/Kisoga-Nyenga road.
The officials are also accused of fraudulently paying out Sh 24, 7 billion to US construction company Eutaw.
Mulyagonja says that "the directive shall remain in force until final conclusion of the investigations or until further orders are issued by this office."
UNRA spokesperson Daniel Alinange has confirmed that board has complied with the directive.
He adds though, that the authority's operations will not be affected.