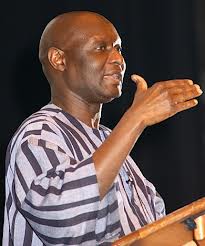 The Uganda People's Congress Party President, Olara Otunnu, is improving steadily after yesterday's accident that occurred along Kitgum-Gulu road.
According to the Party Spokesperson, Okello Lucima, doctors at St Mary's Hospital Lacor hospital, where Otunu was rushed yesterday say he did not suffer any serious injury and has been advised to have a enough rest.
Otunnu was involved in a road accident in which his vehicle Land cruiser registration UAQ 040G veered off the road and overturned several times at Angagura Sub-county in Pader district.
The police say the front tyre of the vehicle burst resulting into the incident.
Story by Julius Ocungi