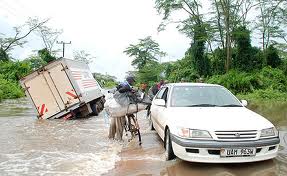 The death toll from yesterday's floods in Kasese district has risen to 8.
According the Uganda Red Cross Society Officials, six bodies have so far been retrieved from the water.
Meanwhile the Uganda Red Cross Society is setting up a settlement camp and registration offices at Bulombya and Nyamwambya for the people displaced by floods.
Earlier, the army boosted the ongoing rescue efforts in Kasese town.
300 UPDF officers have been sent to flood-hit Kasese district where four people have so far been confirmed dead.
Four others are still missing while 1,500 have been displaced. Addressing a news conference at the Media Center, the Acting Commissioner for Disaster in the ministry of Disaster Preparedness Rose Nakabugo said 300 households have been affected by the floods.
She says government has sent food and relief items including mosquito nets, water and tents to cater for the displaced. She however says that the assistance that has been sent is only enough to cater for about 200 people, calling for more help from well-wishers.
She says the State Minister for Refugees and Disaster Preparedness Musa Echweru is in Kasese to assess the situation.
River Nyamwamba that crosses Kasese municipality from the Rwenzori Mountain through to Lake George burst its banks following heavy rains  yesterday, flooding the entire town.