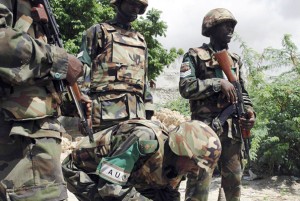 Uganda will not get out of Somalia until the Al-Shabaab are wiped out.
The statement has been made by the minister of defence Dr Cryspus Kiyonga during a press conference held at the army headquarters in Mbuya.
Minister Kiyonga dismissed reports that the Al-shabaab terrorists outwitted AMISOM troops when they attacked the Somalia parliament, an incident that left 7 soldiers killed including 3 UPDF troops.
He says the fact that no member of parliament or parliamentary staff in Somalia was killed, meant the troops were alert and vigilant.
In a related development, the minister declined to give details of the Ugandan soldiers killed in Somalia since deployment.
This came as journalists pressured him to give a full casualty report as he gave a status report on the AMISOM troops in Somalia.
He said there were 22,071 troops in Somalia from Uganda Burundi, Kenya, Djibouti Sierra Leone and Ethiopia with UPDF having the biggest number of 6223.
He however promised to avail the details of casualties in two weeks.
He however said the families of three UPDF soldiers killed in Mogadishu at the weekend are to be compensated with 50,000 Dollars each by the UN.
Those killed included Warrant officer 2 Baligeya Phillip, Warrant officer 2 Onzelle Albert and private Ochaya Joseph