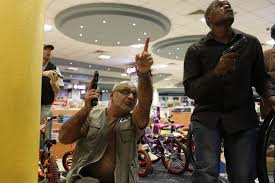 The Chief of Defence Forces Gen. Katumba Wamala has spoken out on the Saturday attack on Nairobi's West Gate shopping Center.
Speaking at an ongoing news conference, at the army headquarters in Mbuya, Gen Wamala has condemned the attack and sent a condolence message to the bereaved families and all those affected by the attack.
He has also revealed that the army has dispatched a team of experts to Nairobi to help with investigations.
Meanwhile in the Kenyan capital Nairobi we wait to hear from the Cabinet Secretary James Ole Lenku who is expected to address a news conference shortly on the latest developments;
Earlier this morning, guns shots could still be heard coming from the West Gate Mall as speculation grew that the operation was nearing its end.
Kenyan security forces say they have taken control of all floors of the West Gate Mall.
At least 62 people have been killed with more than 170 injured.
The Somali Islamist al-Shabab movement has said it carried out the attack in retaliation for Kenyan military operations in Somalia.
According to the Kenyan Red Cross 63 people remain unaccounted for.
There have been also conflicting reports on the number of militants still in the Westgate building but Kenyan officials say three "terrorists" have so far been killed.