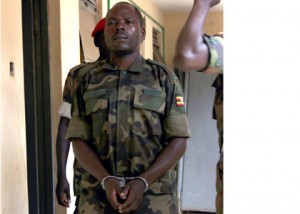 A UPDF soldier accused of killing 10 people has been denied bail.
Private Patrick Okot faces charges of murder, attempted murder, aggravated robbery and failing to protect army war materials.
The General Court Martial sitting at Bombo Health Centre III grounds in Luweero District objected to a bail application by the defence lawyers.
They had verbally sought bail on grounds that it is his constitutional right, however, the court chaired by Brig Fred Tolit objected saying no formal application for bail had been registered by Court.
The state also ruled that bail for the accused could not be granted basing on the capital nature of the alleged offences.
Nine witnesses have so far testified against Private Patrick Okot.
One of the witnesses, Private Balugala Lukwago told court that on March 8th he witnessed a quarrel between the accused and one of the victims of the killings Onesmus Odure.
Balugala claimed that the suspect also tried to kill him when he shot 3 bullets aiming at him on that fateful night.
Cpl.Paul Odongo , another witness said the accused called him after escaping arrest requesting for financial help to enable him travel to Congo.
Hearing continues tomorrow with more witnesses presenting their testimony.