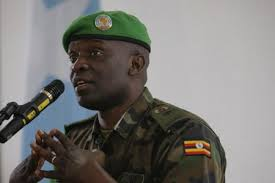 The Ugandan army has welcomed the cessation of hostilities by the M23 rebel group.
The UPDF Spokesperson Lt. Col. Paddy Ankunda says the move by M23 to end fighting creates a peaceful atmosphere for the signing of the peace agreement.
On Tuesday, the group announced an end to fighting saying it would instead adopt a purely political means to achieve its goals. It called on its fighters to disarm and abandon rebellion.
Ankunda says the peace talks have been concluded and the agreement will be signed as soon as the chief mediator returns from the SADC summit in South Africa.
Uganda has been mediating talks between the DRC government and the rebel outfit since it started fighting almost twenty months ago.
The fighting has displaced an estimated 800,000 refugees from the Eastern DRC.