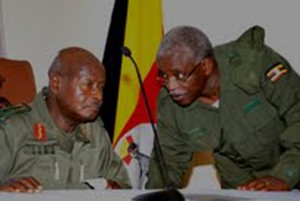 President Yoweri Museveni maintains that the Uganda People's Defence Forces is still needed in South Sudan.
The UPDF has been fighting alongside the South Sudan army for over three months against rebels linked to former Vice President, Riek Machar.
Addressing NRM MPs at the Annual caucus retreat today, Museveni downplayed calls for the UPDF to withdraw, insisting that there is still need for stability in parts of South Sudan.
Meanwhile,  President  Museveni has said that unless political parties strengthen their ideologies, they will continue to disintegrate.
Museveni noted that several parties have broken due to lack of cohesion and principles.
He stresses the need for political parties to desist from sectarian tendencies that could cause internal wrangles.