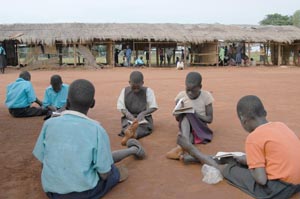 The 2012 report on the status of the country's education sector paints a dark picture of the Universal Primary Education Program.
The report released by the Uganda Debt Network is from a study that was carried out in 2011.
It attributes the decline in performance to government's failure to review the capitation grant.
According to the report, during UPE's inception in 2007, each child was to be allocated 16,000 shillings per term but practically, only Sh 7,260 is being given.
Releasing the report, the Chairman Uganda Debt Network Prof. Ezra Suruma emphasized the need for government to consider allocating more funds to Universal Primary Education if pupils are to attain quality education.
The report recommends that the Ministry of Education and sports agrees on a national minimum standard quality of education that is in line with national expectations and skills requirements for each pupil.
The director of programs Uganda Debt Network Julius Kapwepwe urged government to increase the capitation grant at least up to 15,000 shillings per child per term.