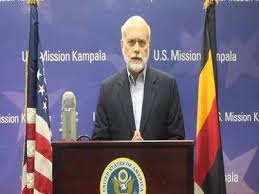 The US government has reiterated its support for efforts by Uganda to combat international terrorism.
In its condolence message on the death of Senior Principal State Attorney Joan Kagezi, the US Mission in Uganda says it deplores this senseless act of violence and cowardice and joins Ugandans in mourning the loss of this heroine in the forefront of the fight against crime and terrorism.
The U.S. government has also extended its deepest condolences to the children, family, and friends of the slain prosecutor.
It adds that Kagezi will be remembered as a brave and tireless promoter of justice, dedicated to ensuring peace and stability in her country.
The US says it stands in solidarity with Ugandans and the Ugandan government as they seek to bring to justice the perpetrators of this heinous crime.
Story by Judith Atim