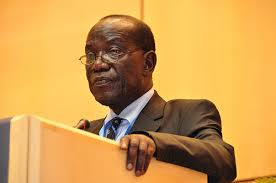 The Constitutional Court has dismissed with costs the petition that sought to remove the Vice President Edward Sekandi from Parliament.
City lawyer Jude Mbabali had filed a petition seeking to nullify Sekandi's parliamentary election victory as Bukoto Central MP on grounds that he violated the leadership code.
In his petition, Mbabali alleges that Seakandi used government vehicles and fuel worth Shs.120m during his campaigns.
However, in a unanimous decision, the five judges led by Remmy Kasule said the petition raises no issues for constitutional interpretation.
The judges say that the case is a disguised election petition on which the Constitutional Court lacks jurisdiction to entertain.
The other judges of the Constitutional Court are Eldad Mwangusha, Opio Aweri,  Solome Balumgi Bbosa and Keneth Kakuru.
Meanwhile,  Mbabali has expressed intention to appeal against the Constitutional Court ruling.
Speaking to the journalists shortly after the ruling was made, Mbabali said he did not expect justice from the Constitutional Court since one of the judges Remmy Kasule is Ssekandi's in-law.
Mbabali insisted that Ssekandi used government resources for his private campaigns which are inconsistent with and in contravention of several articles of the constitution.