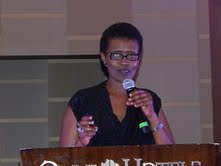 Ugandans in the diaspora need representation in Parliament.
The Executive Director of Oxfam international, Winnie Byanyima has urged government to consider granting a parliamentary seat and ministerial position to represent Ugandans abroad.
Delivering a keynote address at the closure of the 25th Uganda North America Association Convention in Dallas, Texas, Byanyima says Ugandans living in the diaspora contribute to the development of Uganda as well as policy formulation.
Byanyima further wants government to legalise voting in the Diaspora.