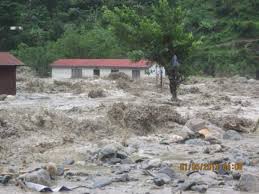 Plans to de-silt river Nyanywamba in Kasese district have been finalized.
This has been revealed by the works state minister Eng. John Byabagambi who says they are currently designing an implementation plan.
This follows an outcry from the residents of Kasese following fresh flash floods that left atleast two schools closed and several roads impassable.
River Nyamwamba burst its banks first in May last year and recently displacing hundreds of people
Meanwhile Kasese pupils have been given a ray of hope. This is after the Ministry of Education has assured parents whose children have been affected by the closure of schools that they will reopen soon.
Over 1000 pupils have since May missed classes after schools like Nyamwamba primary, were washed away by flash floods.
Education Minister Jessica Alupo says the inter-ministerial committee is urgently handling the matter and will soon come up with a solution.