BRIAN MULONDO
Brian Mulondo is a renowned TV and Radio Host; He is a Prime Time News Anchor, Voice Artist, Social Media Influencer, Video Producer, Emcee and Media Entrepreneur with experience spanning 15years. He started his TV career in 2003 with a lifestyle TV show called Better Living which aired on NTV for one season. He was later chosen as the presenter for Trick stars, where he showcased different ways drifters use to con people of their money and property. Trick stars which aired on Sundays at 7:30pm made Brian a household name was chosen by MTN as its Uganda Brand Ambassador for the World Cup 2010.
Brian Mulondo joined Morning at NTV as a pioneer host, this show was rated the leading Breakfast Experience on Ugandan Television
His remarkable delivery on Morning at NTV earned Brian Mulondo Prime Time News Anchor role in November 2016 with Josephine Karungi.
In April 2017 Brian Mulondo joined Kampala's No.1 FM Station 93.3 on the station's premium breakfast show D'Mighty Breakfast. He co-hosts the show with Faizafabz.
Lynda Ddane
Lynda Ddane is dubbed "the queen of happiness" because of her bright smile that never seems to leave her face.
She is a jolly, playful, flamboyant, impulsive and talkative yet peaceful, well-spoken, articulate, overly
cautious, hands on, experimental, hardworking and generous young lady.
She is also a TV presenter at NTV Uganda on the shows, NTV The Beat & NTV DanceParty, a
content creator, digital marketer and influencer.
Lynda started her journey in media on Urban TV doing Campus 101. This was short-lived as she
crossed over to UBC TV doing media training and a mid-morning show called Jam101 with Calvin
Da Entertainer. Later she joined NTV Uganda in May 2019 and 933 KFM in 2021 where she
presents D'hook on weekdays from 10am to 3pm.
What people don't know about Lynda is she is a born again Christian (who credits God at every
step). She is addicted to tea, loves cartoons, and she is also an adrenaline junkie with interests and
previous participation in racing and being part of fraternities like German Car club Ug, Street Racers
Ug and of late affiliation with Fulcrum Racing Uganda. She is a bit a tomboy and has a somewhat
unhidden addiction to sneakers, gadgets and cars.
Doreen
Doreen is a God-fearing woman and proud to be a Mukiiga. She is a free spirit, more like what you see is what you get – take it or leave it.  She loves to laugh and joke away. Doreen can sometimes be skeptical and self-aware, sometimes too cautious about herself, and quite concerned about her appearance.
On the whole, though, she is humorous, kind and one who empathises with people. Doreen is a lover of beauty, very trusting and loves to chill, sing, swim, read, watch movies and party. She may come off as tough and quiet but she is friendly so all you have to do is say, "hello" and you will get a good conversation going. You only need to catch her on the K-Zone from 6.00 pm to 10.00 pm to find out.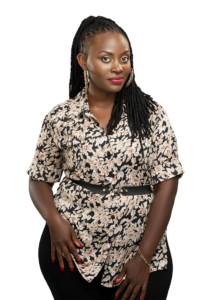 Rebecca Nantale Katagaya aka Becky 
Becky has been in the radio broadcasting business for 12 years now and has skills in sound production, music selection, public speaking, voice acting, creative writing, social networking, events and content management, TV hosting and communications. She is a celebrated professional that was awarded HIT radio personality of 2015 and nominated in multiple categories and awards for her work on social media. Becky has co-hosted Fasi Fas! a 25-minute television talk show hosted by UN Women, her contribution to advocacy for women. She has also moderated panels like the Social Media Summit of 2018 by Konrad Adeneur Stiftung (KAS).
Becky also has experience in social work that spans over nine years dealing with children with disabilities, women and the elderly. She is an avid lover of books, food, film, the arts, fashion, travel, conversation, dance, interior decor, landscaping, God and people. She is a word connoisseur, and a certified "Grammar Nazi" with no tolerance for badly written work. She has also served as a children's church facilitator and youth worker at her church and you can catch her vivaciously indomitable self on 933 KFM, Monday to Friday on the turbo charged K-Drive from 3pm to 7pm.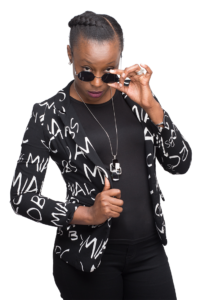 PATRICK KANYOMOZI
Probably one of the most hilarious guys in the building, there's never a dull moment with Patrick. He got a Bachelors degree in Commerce at Makerere University, Patrick did not get into radio by mistake. He knew he wanted to be a radio presenter right from childhood. Even when his parents forced him to study Commerce, he knew deep inside that that was not where he belonged. And so he found his way, behind the mic. His life is incomplete without sports.
Catch him every day Mon-Friday with live sports updates in the morning on D'Mighty Breakfast at 7:35am and 8:35am, on the K-Drive at 3:35pm and 5:35pm then on Saturday for the weekly round of KFM SPORTS from 11am to 1pm alongside Ishamael Dhakaba Kigongo and Elvis Senono.
What most people do not know about him though, is that he loves music and movies almost in equal measure (as sports). He also interests himself in current affairs, politics and business which explains many of his posts on social media platforms. Follow him @PatriqKanyomozi on Twitter, patriqkanyomozi on Instagram and like his page Patriq Kanyomozi on Facebook.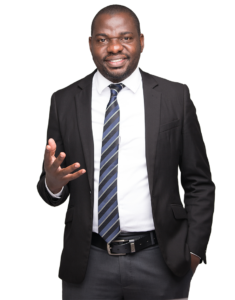 Ishamael Dhakaba Kigongo
Emeka The Romantic Mukiga
Bareija Collins aka Emeka The Romantic Mukiga is a celebrated stand-up comedian who started in 2014 with The Punchliners and Comedy Files. He has performed in Rwanda, Kenya, Zambia among other countries. In 2018, he was nominated for African Comedian of the Year in the ADARA Awards in South Africa with BasketMouth and Patrick Salvado.
As a co-host, Emeka lights up the K Drive show on 933 KFM and has been on radio for over 8 years. Additionally, he won the comedian of the year award in the Vine Awards 2022. Because of his unique comedy act of mimicking, he has scooped ambassadorial gigs such as GOTV Uganda where he delivers amazing content.
He has captured many people with his art of humour and communication and is one of the best corporate MCs in the country. He's hosted events both in Uganda and East Africa at large. Emeka is currently a TV host on Pearl Magic Prime for the show 'Take Me Back. As an actor, he featured in 'Prickly Roses', a film produced by The Nabwiiso's.
Connect with him via; Facebook: The Romantic Mukiga Twitter: @emeka_ug (The Romantic Mukiga) | Instagram: @the_romantic_mukiga |  Tik Tok: @TheRomanticMukiga
Faiza Fabz
Faiza Salima also known as Faiza Fabz is an outspoken and creative individual who uses her personal and professional experience to help create platforms for people to share their stories and experiences while helping them to grow. Born and raised in Uganda, she has a diverse sense of style that she blends into her work to make her works stand out. 
Her family and love for writing nurtured and inspired her two top-most hobbies in Life—Journalism and Cooking—and while her focus is usually on media-related work, she takes advantage of her family's recipes to bring to her clients what can only be described as culinary delights. 
She dabbles in various forms of marketing including Emceeing, Social Media influencing, and recurring Ads for her more "refined" clientele because while she is a very creative individual, she knows that people desire a variety of choice and not a one-size-fits-all approach to content. She is a patriot, a visionary, and an advocate of self-reliance and has dreams of one day starting her own media Group of Companies in Uganda.
She received her Bachelor of Arts degree in Mass Communication from the Kampala International University where she graduated "Summa Cum Laude" in 2021. In the same year, she also graduated from the Media Challenge Initiative where she was especially recognized for her Media and Journalism research. No stranger to multitasking, she has done special trainings on illicit financial flaws in Africa with the Thomson Reuters Foundation and was also awarded a Certificate for her Mobile Journalism training with Ultimate Media Consult in 2020. She is an avid researcher, and reader.
Faiza is currently working with Nation Media Group where she hosts the D'Mighty Breakfast show on 93.3 KFM from 6:00 AM to 10:00 AM, Monday through Friday. 
Connect with Faiza: Email: faizasalima96@gmail.com | Socials: @Faizafabz