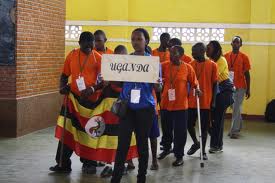 The Ugandan team of four runners has flown to Mauritius to compete in the 11th Africa Junior Championships due August 29 – September 1, 2013.
The team led by Coach Francis Demayi also comprises Halima Nakaayi who will compete in 400m and 800m races.
The others are 200m and 400m runner Denis Opio who is making his first international appearance, Moses Kurong and Mande Abdalla who will feature in 5000m and 10,000m.
Meanwhile Ugandan athlete Solomon Mutai has won the Safaricom Mombasa International Marathon in a time of 2 hours and 14 minutes.
The victory comes just days after one of Uganda's greatest runners; Stephen Kiprotich won a gold medal at the recent World Championships in Moscow.