Juventus legend Gianluigi Buffon believes reaching the final of the Champions League means nothing unless he lifts the trophy in Cardiff.
Strikes from Mario Mandzukic and Dani Alves downed Monaco 2-1 on the night and 4-1 on aggregate as the old lady booked their place in the final.
However, it is a feeling that Buffon will know well, having played in two Champions League finals during a stunning 16-year career and has left empty handed on both occasions and now has the steely determination to not come away from the Welsh capital without that elusive trophy.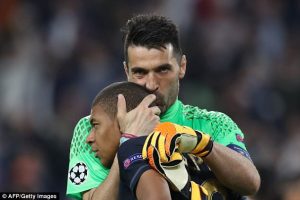 'Yes we go to Cardiff, which was, well, I won't say our aim because just getting to the final means nothing,' Buffon said.
'I'm really happy because I'm in good shape I can't deny the fact that if we didn't have a great team getting there again wouldn't have been possible.
'My team-mates have been fantastic and it's thanks to the whole team that we got there.'
'Two years ago everyone thought it would be my last final, but that isn't the case,'
'I thought it might be as well, but you have to believe in your dreams until the very end and believe in what you do.'