Chelsea have signed Kepa Arrizabalaga from Athletic Bilbao for £71m – the highest fee ever paid for a goalkeeper, and a club record transfer.
Kepa, 23, arrives at Stamford Bridge after a release clause in his contract was met, with the deal surpassing Alisson's £66.8m move to Liverpool.
Kepa is second choice for Spain behind Manchester United's David de Gea.
He has spent the past two seasons in Athletic's first team, making 53 La Liga appearances, and has one international cap.
He has signed a seven-year contract at the club and replaces Thibaut Courtois,  joins Real Madrid for £35million on a six-year deal.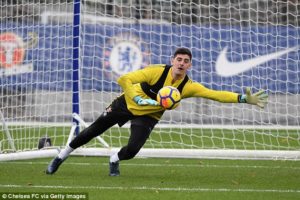 Courtois will complete his medical today and be presented at the Santiago Bernabeu stadium before attending a press conference.
Courtois had gone AWOL from Chelsea, refusing to return to pre-season training in a desperate bid to force a move to the Spanish captial.
Chelsea have since opened disciplinary proceedings against the 26-year-old and are set to fine him two-weeks wages worth around £200,000.
Mateo Kovacic will move to chelsea on a season-long loan once Courtois' deal has been finalised.
Story By BBC Sports & Daily Mail Sports