The Warriors secured a 129-120 victory this morning to take their 2nd title in three seasons
For the third year in succession the two teams met in the Finals, Golden State beat Cleveland in the 2015 Finals, in 2016 the warriors squandered a 3-1 lead to the Cavs, it looked like the case again after warriors led 3-0 and then lost the 4th game but this time held there nerves to win 4-1 to secured the trophy in game five.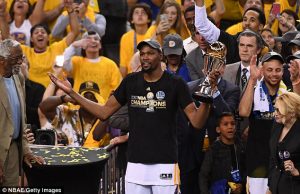 Kevin Durant scored 39 points Stephen Curry added 34 points, 10 assists and six rebounds as the Golden State won in five games, closing out their second title in three years.
Kevin Durant who who joined from the Oklahoma City Thunder last summer was named the Most Valuable Player of the Finals scoring more than 30 points in each of the five games – the first player since Shaquille O'Neal in 2000 for the LA Lakers – and averaged 35.2 per game across the series. He scored 38, 33, 31, 35 and 39 in the Finals. He also added 8.2 rebounds and 5.2 assists a game over the 5 game finals. Point guard Stephen Curry posted 34 at the Oracle Arena in Oakland.
LeBron James, last year's Finals MVP, led the Cavaliers with 41 points, 13 rebounds and eight assists but it was not enough as the home team came out on top.
LeBron James has now lost five Finals in eight appearances – only the fourth player to come up short in five NBA Finals But has won three of those 5 finals.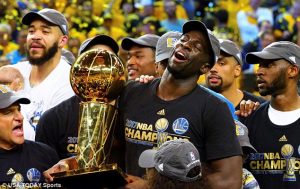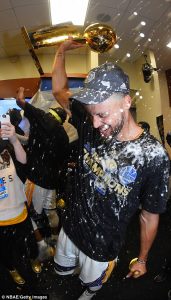 Draymond Green celebrates with the Larry O'Brien Trophy
Story By BBC SPORT, DAILY MAIL & THE GUARDIAN Compiled By DAVID KUGONZA