Jose Mourinho has taken aim at Arsene Wenger in his post-match press conference following Manchester United's defeat to Arsenal.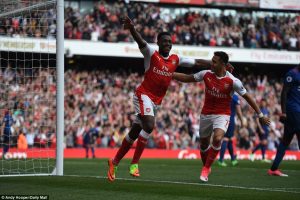 The loss was Wenger's first victory over the Portuguese in the Premier League at the 13th time of asking, with Granit Xhaka and Danny Welbeck helping to secure a 2-0 win.
After almost 13 years, Arsene Wenger finally got the better of Jose Mourinho in the Premier League after Arsenal beat Manchester United 2-0 at the Emirates Stadium.
In 12 previous Premier League games against Mourinho the Arsenal boss had been unable to mastermind a victory, suffering five defeats and picking up seven draws.
The closest Wenger had previously come to beating Mourinho was in December 2006 when Michael Essien scored an 84th minute equaliser for Chelsea in a 1-1 draw at Stamford Bridge.
Mourinho aimed a subtle dig at Wenger in his post-match television interview, insisting that Gunners fans could finally go home with a smile on their face after so many years of pain when facing him.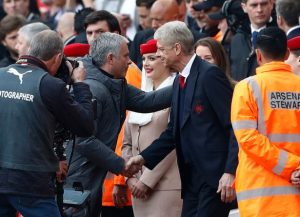 He said: "The Arsenal fans are happy and I'm happy for them. It's the first time I leave Highbury or the Emirates Stadium and they're happy.
"I left Highbury, they were crying, I left Emirates Stadium, they were crying. They were walking in the streets with their heads low. So finally today they sing, they wave their scarves. It's nice for them.
"It's a big club. You think I enjoy that a big club like Arsenal is not winning big trophies? I'm not enjoying that, honestly. Today I tried to win. We lost."
'Arsene Wenger is not a small manager, he's a big manager, to have that record of winning so many matches [against him] is not normal. Normal is win, lose, draw. I really don't care about it today.
'We had no problems. We shook hands before the game and after the game, and during the game I don't like what I never like, he puts too much pressure on the fourth official. Every time.'